Profile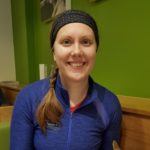 Helen Playford
My CV
Education

I went to a small primary school close to my parent's house, and when I was 11 I moved up to the local secondary school with most of my friends. My school was called Uckfield Community College and it was a pretty ordinary school. Some of my teachers thought I should have gone to a grammar school because I was a fast learner and good at things like science and maths, but the community was important to me and I still got a really great education there!

I went to the University of Warwick to study chemistry for 4 years. During my 4th year I did a research project and this inspired me to continue researching and stay at Warwick for my PhD.

Qualifications

I got 7A* and 3A grades in my GCSEs. These included science, maths and English as well as optional subjects like art, history and food technology.

I chose chemistry, maths, physics and psychology for my AS-levels and carried the first 3 on to full A-levels. I was delighted to get straight As in my exams and got accepted into my first choice university.

I got a 1st class degree in Chemistry from Warwick University and then went on to complete my PhD there too.

Work History

My very first "real" job was as a Waitress in a local pub. I learned a lot about working under pressure and with members of the public! I wasn't that keen on it at the time but looking back I am so glad that I was (gently) pushed into doing it.
Later I worked as an administrator in a local hospital during my university holidays. It was a pretty boring job but I enjoyed picking up bits and pieces of information about medical issues and treatments.
After I finished my degree I had a temporary job working in a bookshop, and it was during that time that I realised that I would be happier in a job that really used my scientific brain. I knew that going back to do a PhD was the right choice for me!
After my PhD I got a job as a "postdoctoral researcher" at ISIS, where I'm still working today.

Current Job

I'm an Instrument Scientist, which means I look after a scientific instrument and help other researchers come and use it for their work. I also do my own research using chemistry and making new materials.

Employer

I work for the Science & Technology Facilities Council (STFC), which is part of UKRI, basically an organisation that groups together several organisations that do scientific research.

STFC operates large facilities like the one I work at, as well as a couple of others around the country.
About Me:

I am an Instrument Scientist at the ISIS Neutron & Muon source. My favourite thing is learning about the world around me and I love the countryside, dogs and chocolate!

Read more

I live in a tiny village in the Cotswolds with my Fiancé Matt and our cute-but-lazy rescue dog, Bobby. I love running, and I've completed the London Marathon twice! My favourite food is Chinese, I love baking (and eating) cakes, and I'm a little bit addicted to games like Candy Crush.

My favourite films are the Lord of the Rings trilogy, I enjoy dancing (even though I'm not very good at it), I'm a pretty good singer and I love growing fruit and vegetables in my garden.

I used to play tonnes of Minecraft (I'm not very good at that either) and I spend quite a bit of my free time watching YouTube because I love all the different subjects you can learn about!

My Work:

I use a beam of neutrons to find out how materials are put together. Some of the materials I look at will help make the world a better place! I also like doing chemistry to make new materials that might do interesting things.

Read more

Where I work we use a particle accelerator to make beams of particles called neutrons. We put interesting materials into the neutron beams and measure what happens to the neutrons inside the material.

There are lots of instruments which are used in slightly different ways, and the one I look after is called Polaris and is used to find out how the atoms – the tiny building blocks – are arranged inside materials. You can think of it a bit like a really huge microscope, but because we are looking at things that are really, really, really small (about 20 million atoms would fit across the full stop at the end of this sentence) we can't look at them directly and have to use computer programs to turn the information we get from the instrument into something visible.

Lots of different scientists will come to use Polaris and my job is to help them take the measurements they need and to understand the results. This is what I really love about my work, there is always something different coming in to learn about. The materials we look at can be anything from medicines to batteries, and we even sometimes have whole train wheels or ancient swords to study!

When I'm not working on Polaris I like to get into the chemistry lab and try to make new materials. My chemistry looks a lot like cooking – I mix a bunch of  chemicals (ingredients) together, put them inside a little pot (a bit like a tiny pressure cooker) and then put the pot in the oven to make the chemicals react together. The difficult bit is working out which ingredients and which cooking times/temperatures get me the products I want! I have notebooks full of comments like "no solid product" or "nasty brown sludge" but it is so exciting when a reaction works I don't have a problem trying again and again. I once had an experiment that worked on the first try and then spent 20 weeks failing to repeat it! Chemistry has definitely taught me patience!

Oh and here's a fun fact for you: the little pressure cookers I use are sometimes called "bombs" which I think is funny because they are actually carefully designed *not* to explode!

My Typical Day:

I always start the day with a cup of coffee, and then after that I'll go to check on the experiment that is running on my instrument. I'll fix any problems that have come up overnight and spend some time looking at the results that have come in. I might spend the afternoon working on the computer or in the lab doing chemistry. Before I head home I make sure my instrument is set up for the night, and I always wave goodbye to it before I leave!

Read more

Right now, like most people, I'm not able to go into work and instead I'm working from home. I think that it is probably more interesting to hear about what I do when I can go to the office, so that's what I'll describe here!

I have quite a long drive to work so I normally arrive just before 9am, and I'll go to my instrument, Polaris, to check that everything ran smoothly overnight. I'll spend some time with the scientists who are using Polaris making sure they are getting the measurements they need and are happy with how to understand the results.

Once I am able to get to my desk I'll check my emails. I get quite a lot of messages so I have to find the ones that need me to reply straight away and deal with them first. My favourite kinds of emails are from scientists who have read about me or my instrument and have a new science problem that they think I might be able to help with!

I go to lunch with my colleagues at about midday and then afterwards it will be back to my to-do list, which usually has a bit of everything on it! One day I might be preparing to give a talk to other scientists, another I could be in the lab doing chemistry and another I might be doing some computer programming. I like the variety in my job, it keeps things interesting!

I'll go check on Polaris at the end of the day to make sure that it is set up to run overnight and to make sure that the people using it know how to contact me if there are any problems. And yep – one slightly less fun part of my job is getting phonecalls at 3am when something goes wrong on the instrument! I don't really mind though as 9 times out of 10 I can fix things just by logging on to the computer.

Once I get home I walk my dog, make some food and have a bit of time to catch up on my favourite YouTube channels or play some games.

What I'd do with the prize money:

I am writing a book called "Structure Matters" about how and why we study the way materials are put together. I would use the money to help with getting the word out about it!

Read more

There are loads of great science books out there for all ages, but I don't think there are any that talk about the kind of work I do: crystallography (working out how atoms are arranged inside materials). I am writing a book on this subject, called "Structure Matters".

I will use the prize money to help with spreading the word about my book and to talk about the subject on social media – I can't write a book that you all want to read without talking to you! I would like to start a YouTube channel too, and the money would definitely help towards that! 🙂

My Interview

How would you describe yourself in 3 words?

Enthusiastic, curious & patient

What or who inspired you to follow your career?

It really all started with a fantastic science teacher who encouraged me to study chemistry at university!

What was your favourite subject at school?

I liked pretty much everything.

What did you want to be after you left school?

I didn't have a clue, I felt that higher education was the right path for me.

Were you ever in trouble at school?

Not really, although I was once told off for wearing black trousers instead of navy blue!

If you weren't doing this job, what would you choose instead?

Working as a research scientist in a university.

Who is your favourite singer or band?

It's hard to pick just one! I really like Sia, and secretly love a bit of Taylor Swift!

What's your favourite food?

Chocolate

What is the most fun thing you've done?

A muddy obstacle course called the "Devil Mud Run"

If you had 3 wishes for yourself what would they be? - be honest!

1) To be able to have dozens of different pets (is it weird that I really want a pet snake?) 2) To sing and dance on stage. 3) To travel all around the world.

Tell us a joke.

You should never trust atoms. They make up everything!

My profile link:
https://ias.im/u.253496
---
---
---